Course Materials
Select Course Materials
OPEN
CHOOSE ONE
FALL 22 NURSING E-BOOK BUNDLE
Author: LWW
Edition: 322
Published Date: 2022
ISBN: 9781975196707
Publisher: LIPP/W+W
Book Notes: THIS IS EBOOK BUNDLE WITH 2 PRINT BOOKS. IF YOU WANT THE FULL PRINT OPTION THIS IS NOT IT.
CHOOSE ONE
FALL 22 NURSING PRINT BUNDLE
Author: LWW
Edition: 322
Published Date: 2022
ISBN: 9781975196714
Publisher: LIPP/W+W
Book Notes: THIS IS FULL PRINT BUNDLE. IT IS BIG AND HEAVY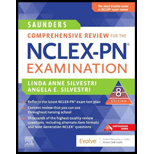 RECOMMENDED
SAUNDERS COMP.REV.F/NCLEX-PN...-W/CODE
Author: SILVESTRI
Edition: 8TH 22
Published Date: 2022
ISBN: 9780323733052
Publisher: ELSEVIER
Book Notes:
Used copies of this textbook are temporarily out of stock, order fulfillment may be delayed
Get the best review for the NCLEX-PN exam from the leading NCLEX experts! Written by Linda Anne Silvestri and Angela E. Silvestri, Saunders Comprehensive Review for the NCLEX-PN Examination, 8th Edition provides everything you need to prepare for success on the NCLEX-PN. The book includes a review of all nursing content areas, more than 4,500 NCLEX exam-style questions, detailed rationales, test-taking tips and strategies, and new Next-Generation NCLEX (NGN)-style questions. An Evolve website simulates the exam-taking experience with a choice of practice questions along with realistic practice tests. Based on Silvestri's proven Pyramid to Success, this complete review is a perennial favorite of students preparing for the NCLEX. - More than 4,500 practice questions are included in the book and on Evolve. - Detailed rationales are provided for both correct and incorrect answer options. - Alternate item format questions include multiple response, prioritizing, fill-in-the-blank, figure/chart, and video clips. - Test-taking strategies provide useful hints for analyzing and uncovering correct answer options. - Pyramid Points and Pyramid Alerts identify content that typically appears on the NCLEX-PN exam - Pyramid to Success sections at the beginning of each unit provide an overview of content, guidance for your review, and the subject's relative importance in the NCLEX-PN text plan. - What Should You Do? boxes in each chapter help you develop critical thinking skills, with answers at the end of the chapter. - UNIQUE! A 75-question pre-test on Evolve provides feedback on your strengths and weaknesses, and the results generate an individualized study calendar. - NEW! Next-Generation NCLEX (NGN)-style questions ensure that you are ready for the biggest change to the NCLEX-PN test plan in many years.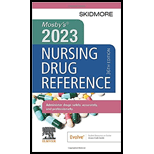 RECOMMENDED
MOSBY'S 2023 NURSING DRUG REF.-W/ACCESS
Author: SKIDMORE
Edition: 36TH 23
Published Date: 2023
ISBN: 9780323930727
Publisher: ELSEVIER
Book Notes:
Used copies of this textbook are temporarily out of stock, order fulfillment may be delayed
Choose the drug handbook trusted by nurses for more than 35 years! Mosby's 2023 Nursing Drug Reference makes it easy to find the most vital information on the drugs you administer most frequently. More than 5,000 drugs are profiled ― including 35 new entries for drugs recently approved by the FDA. And no other drug guide places a higher emphasis on patient safety, with Black Box Warnings for dangerous adverse reactions, Safety Alerts for situations requiring special attention, and a focus on both common and life-threatening side effects. From nursing pharmacology expert Linda Skidmore-Roth, this perennial bestseller proves there is a difference in drug guides.